★ Exclusive 37% OFF CHRISTMAS SALE ★
Is quarantine leaving you craving the fairway? We found the fix! With Home Putter™ Indoor Golfer you can play around your living space in a competitive and skill demanding game of Indoor Golf.
The coolest part about the mini indoor golf game, is you can really play a whole course as he has interchangeable clubs that you can swap out for each distance needed to hit. Put in a driver for extra long distances, a wedge for when you're close to the green, or a putter for when you're on the dance floor.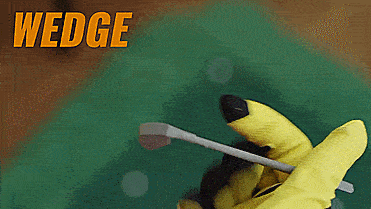 Golf is a challenge because it requires striking a tiny ball great distances while working around the environment.
All of the Mini Indoor Golf's elements are easy to setup and easy to rearrange. Create a fun challenge with as much difficulty as you desire.
The mini golfing man indoor golf game comes with everything you'll need to get an extra-competitive game of indoor golf going, including two mini man shot makers attached to long poles to make it seem like you're really about to golf, 12 clubs to choose from, a set of left-handed clubs, a putting green, a tee box, 2 sand traps, 1 water hazard, 24 mini driving balls, a pin, and a cup.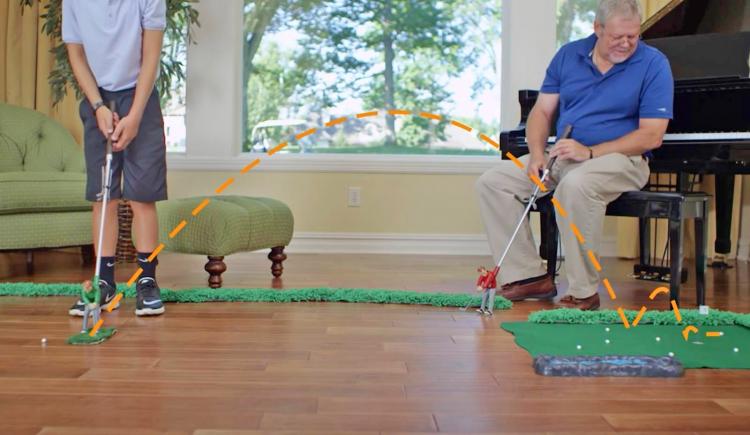 With a separate putting green and tee box, you can set up a new hole each time, and practically play a full 18 rounds in a competitive match with a friend. This is a perfect way to for the avid golfer to get through the dreaded winter for those who live in the northern barren wasteland states through these cold months.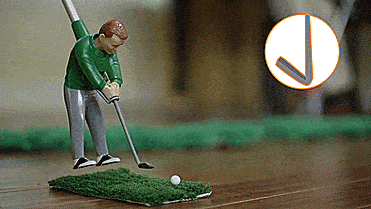 FEATURES & BENEFITS: 
✔️ Fun at Home:

 

We're all sick of being stuck at home. Take the chance to sit back and enjoy a nice day on the green. Who wouldn't want that?
✔️ Provoke Your Kids' Interest in Sports: 

 A mini-golf cart playset can be a great way to get kids started in sports with golf equipment before an actual large financial payment of some higher-priced clubs as well as to grow their enthusiasm for a game they might play forever.
✔️ Develop Motor Coordination / Analytical Thinking:

 Exercise can promote the healthy development of your child's body and mind. Golf competition can promote the development of children's muscles, improve the child's ability to observe, imagination, judgment, and patience.
✔️ Strength Parent-Child Relationship:

 Enjoy a family golf time when your kid loves to imitate a natural swing or hand position like dad or mom. Besides, they could learn to deal with the stress and pressure of instruction through playing the game of golf
✔️ Have a Game with Your Little Golfers:

 

Best birthdays, parties, Halloween, Thanksgiving Christmas New Year presents, and lots of fun moments. The highly durable suit is suitable for indoor or outdoor use including lawns, terraces, living rooms, preschool classes, and other places.
✔️ Easy to Assemble: Assembly and clean up is almost as easy as it is to play. Enjoy all the time you have to the fullest extent.
Product Includes:
✅ 1 x Golf Course Cloth
✅ 1 x Shot-Maker Club
✅ 1 x Moveable Putting Green
✅ 6 x Sets of Interchangeable Clubs
✅ 1 x Water Hazard
✅ 2 x Sand Traps
✅ 24 x Little Balls
✅ 1 x Big Ball
✅ 1 x Umbrella Table
✅ 2 x Chairs
✅ 1 x Pin
✅ 1 x Cup
✅ 1 x Flag
SHIPPING & DELIVERY
 All orders are dispatched out within 24 to 48 hours with fastest available service after you placed an order. The delivery timeframe is usually between 5 to 16 business days, however, you may receive your items earlier. All orders are shipped with the tracking number so you can track it every process in transit! Packages may be faced with delays beyond our control such as customs or postal delays.